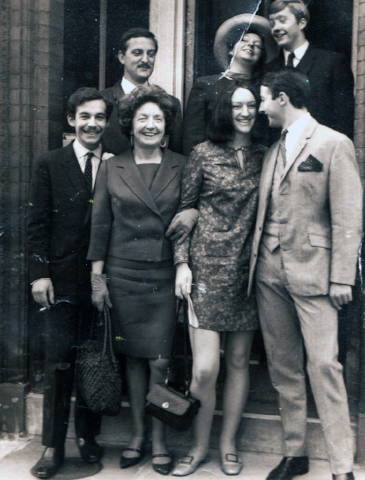 My parents wedding London, England 1964
Mother and father on lower, right

My father was a drunken gypsy who transplanted my mother and I from our home in London, England. He brought us to the U.S. to find adventure and fortune…we were just along for the ride. In the 50 plus moves during 18 years, a few memorable abodes included a ramshackle motel (somewhere, maybe Mexico), a sailboat in San Francisco, a dome in Yosemite, and a multitude of very low rent apartments near Los Angeles. My parent's alternative lifestyle made me an interesting and unusual child. I turned to the fantasy world of books and doodling to make sense of it all.

I sold my first comic doodles at eight years old, going
going door-to-door in our neighborhood.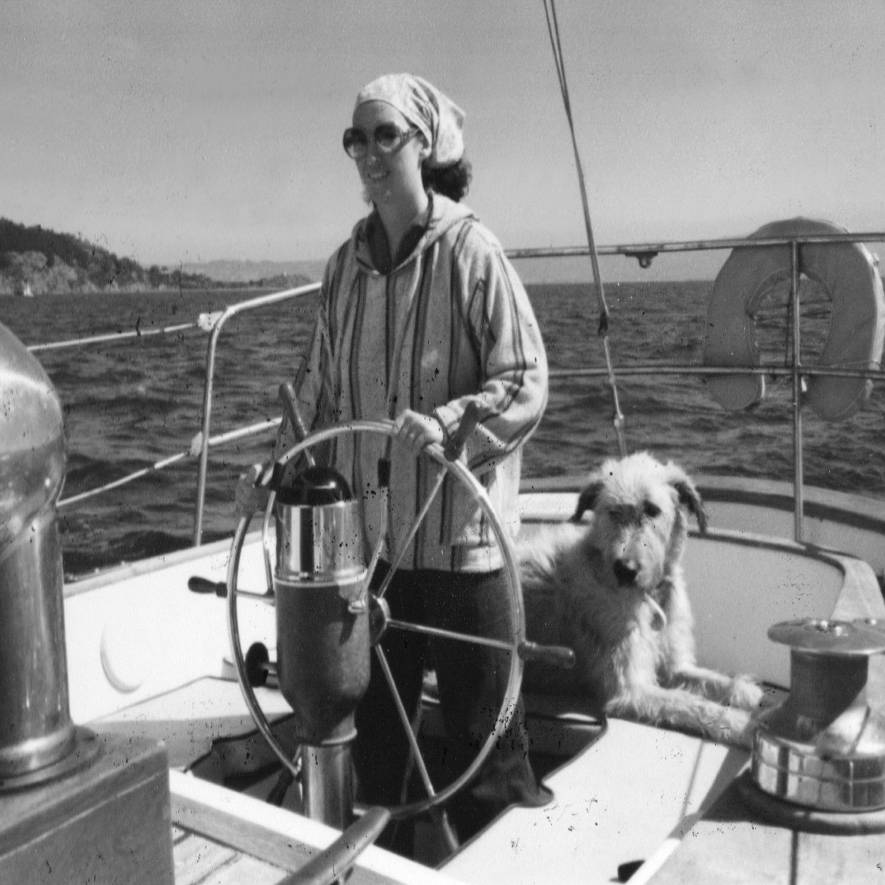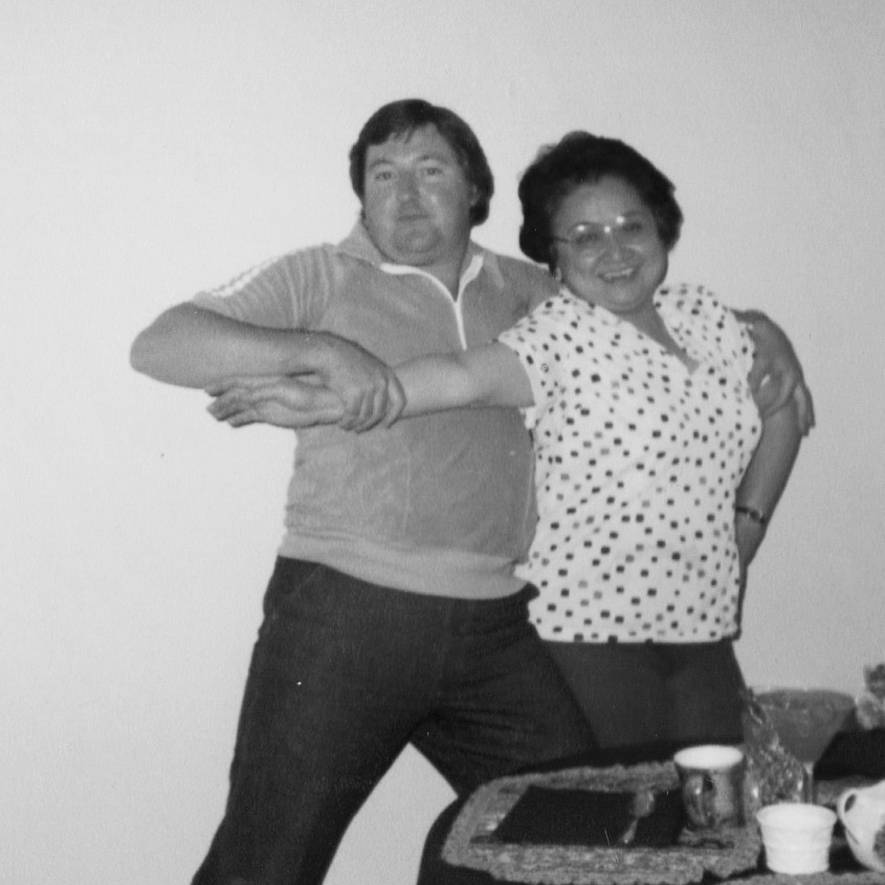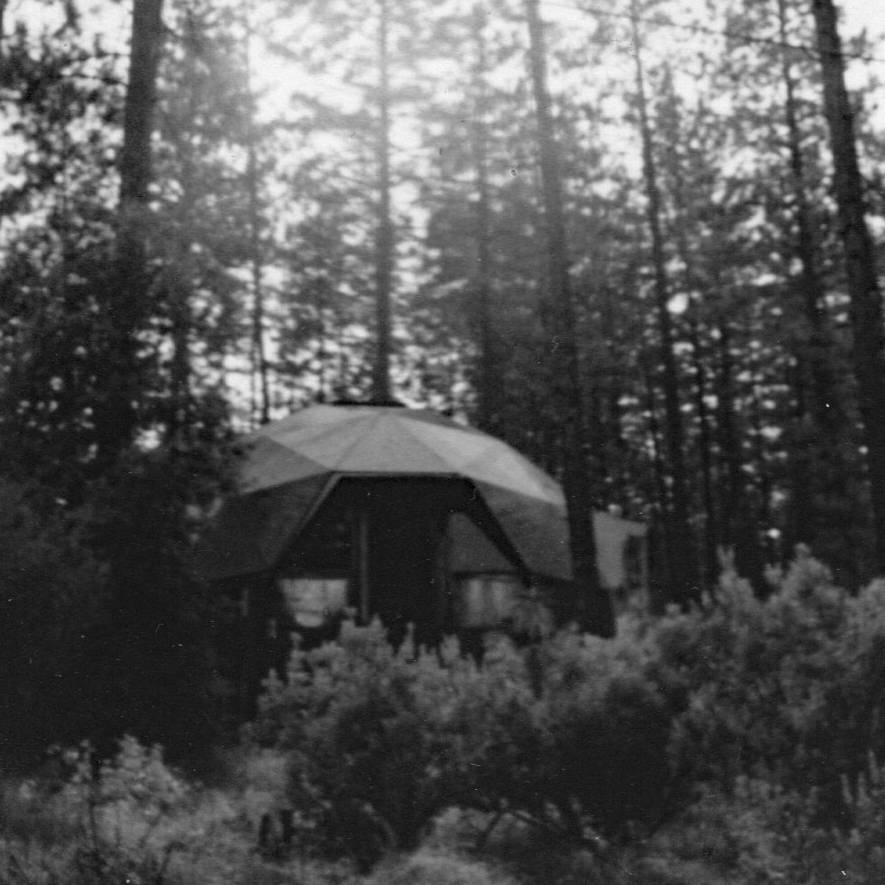 Mom sailing in San Francisco Bay
Spontaneous tango, Dad with our neighbor
I loved riding in the foothills of Northern CA
Our unfinished dome in Yosemite
After leaving home at 18, I continued on with the gypsy lifestyle. I moved around the U.S. and travelled extensively overseas. Upon returning from India in 1997, I rented an attic with exposed insulation in Portland, Oregon.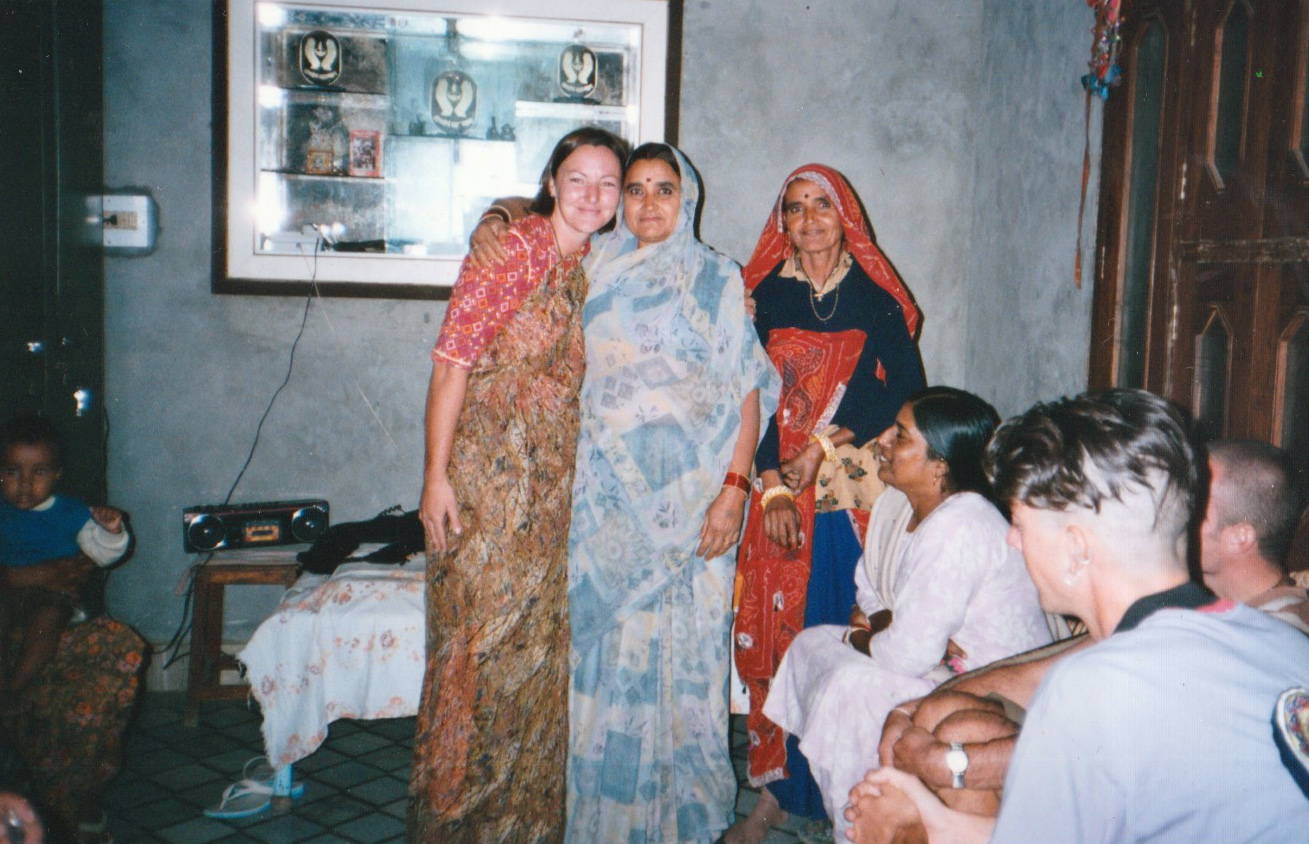 I rode my mountain bike across the Rajasthan Desert in India, and made lifelong friends along the way.
The design of my life as I knew it was on the brink of a mega transformation and I didn't see it coming.
Thanks to a series of coincidental events (another story to be told), I met my future husband. At the time, he was a long-haired, professional brewer who owned a Cattle dog named Ayla. Until I butted in, Ayla had Jay's heart, bed, food, and the front seat of his Volkswagen Bus. It took considerable time for Ayla to cease dirty looks and chewing buttons off my sweaters. I really loved that dog!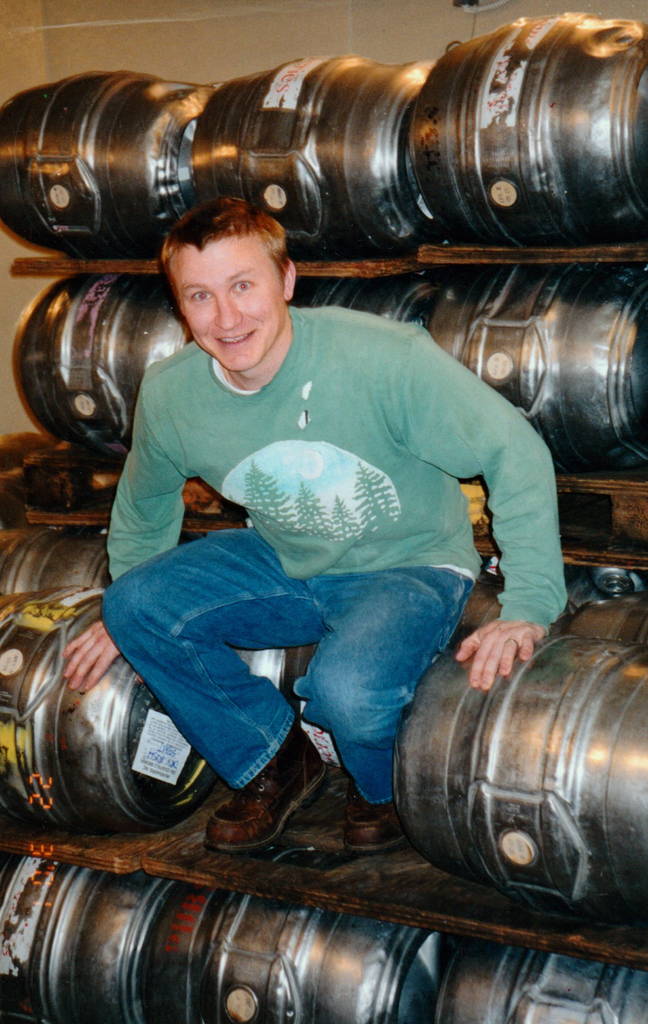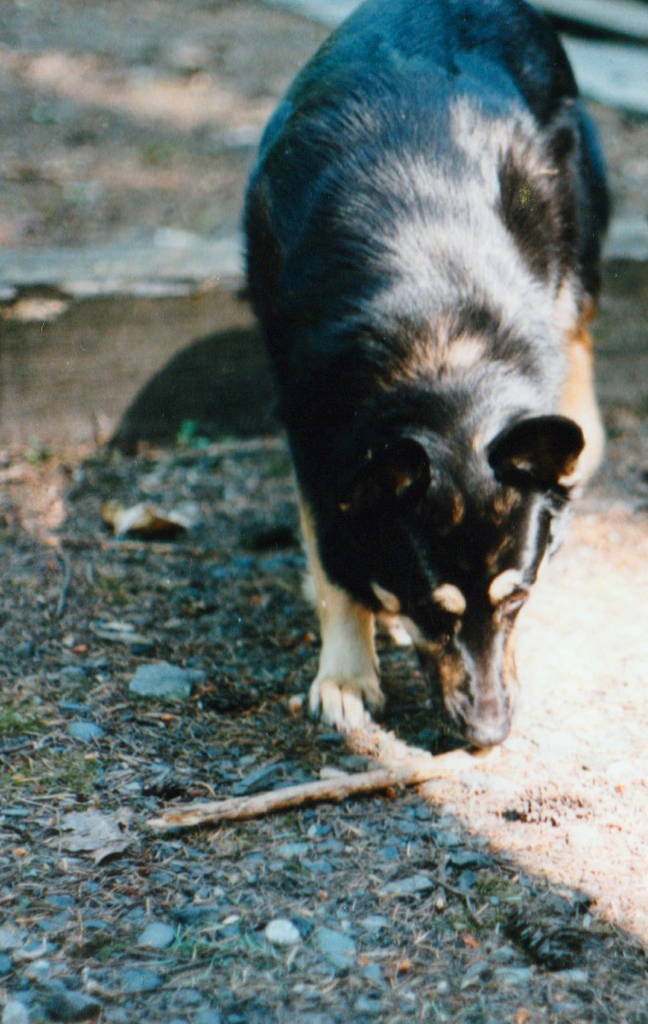 Jason stacking kegs at McMennamin's Edgefield Brewery in Troutdale, Oregon
Ayla was a pro at retrieving her stick from the dense woods.
Not long after meeting Jason, I found work in a comical, downtown laundromat. One day at work, I surprisingly spotted a beautiful old tweed coat which had been discarded in the garbage can. Being that I had no money to buy Jason a gift for his birthday, I fashioned the old coat into a dog which captured the look and essence of Ayla. The stuffed dog made people laugh, so I naturally started doodling this image on everything…napkins at bars, old receipts, arms, legs, generally anything that even came close to my pen. Jason and friends encouraged me to sell these weird little dog drawings, so I purchased unusual, old frames from thrift stores and began selling "Stinky" comic art at the Portland Saturday Market in 1998.
My gypsy ways had come to a slamming halt.
At long last, I found love.. and my calling as a Stinky artist.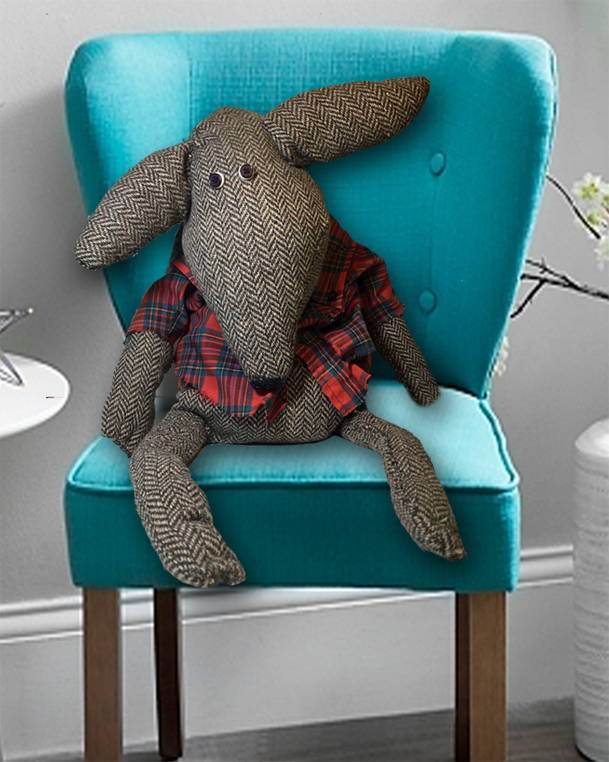 The original stuffed Stinky made from an old tweed coat found in a laundromat.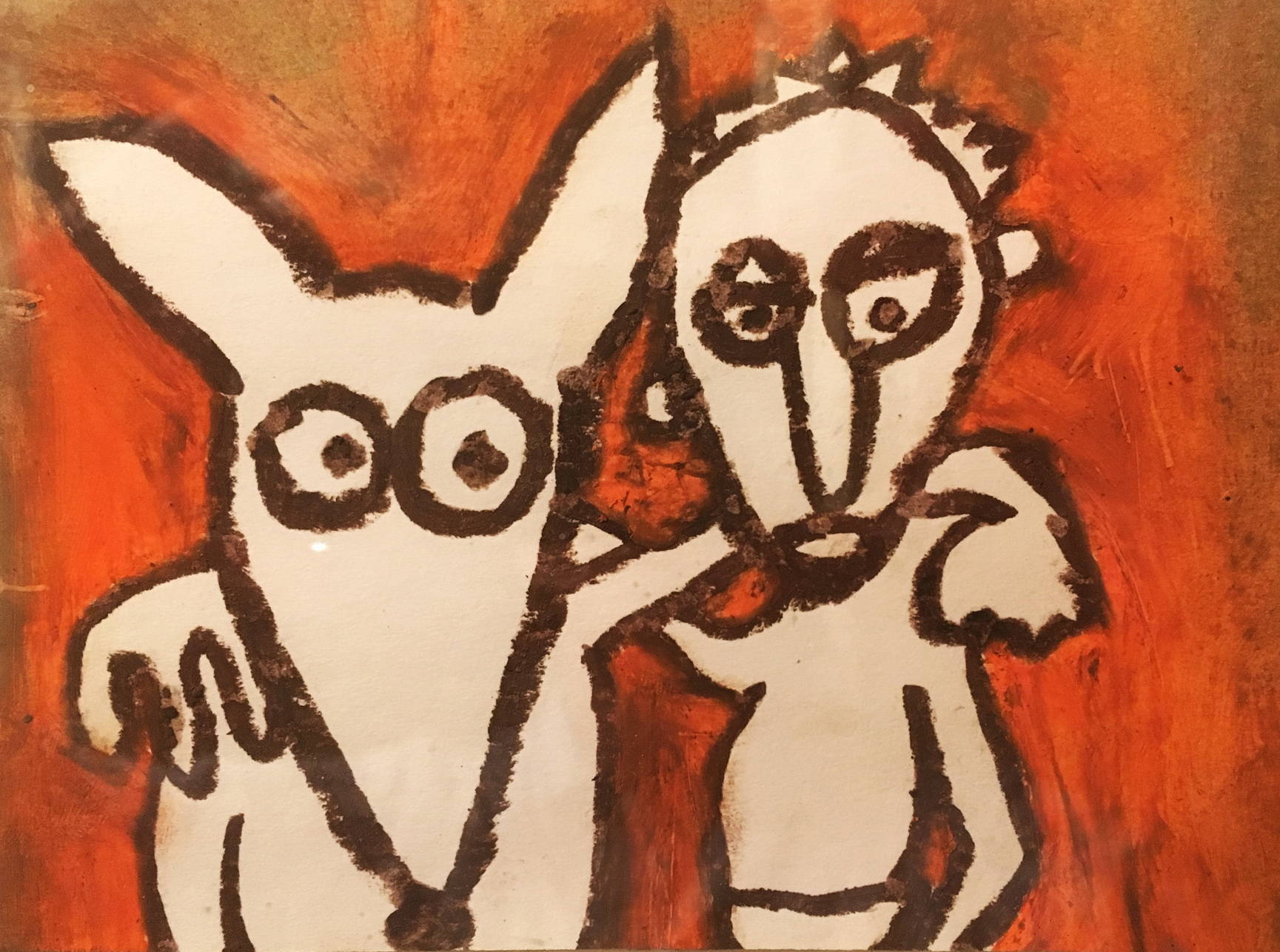 "My Best Friend Smells" was the first Stinky drawing. Drawn with oil pastel on an index card.
In 2001, my husband and I decided to move to his small (not even a stop light) hometown of Northville, located in the Adirondack Mountains of Upstate New York. I slowed down to a pace I didn't know could sustain life. Surprisingly, it was in this town that Stinky really came alive. At first, I thought my career as a Stinky artist had come to a quick end. I didn't believe Stinky art would sell in the Adirondack mountains, and there was no art market from which to make a living. Funnily enough, coincidence showed its face again, and I found a fellow artist who graciously taught me to sell on Ebay. After several months, I was creating around one hundred Stinky drawings a month. The new Stinky business quickly dominated our home.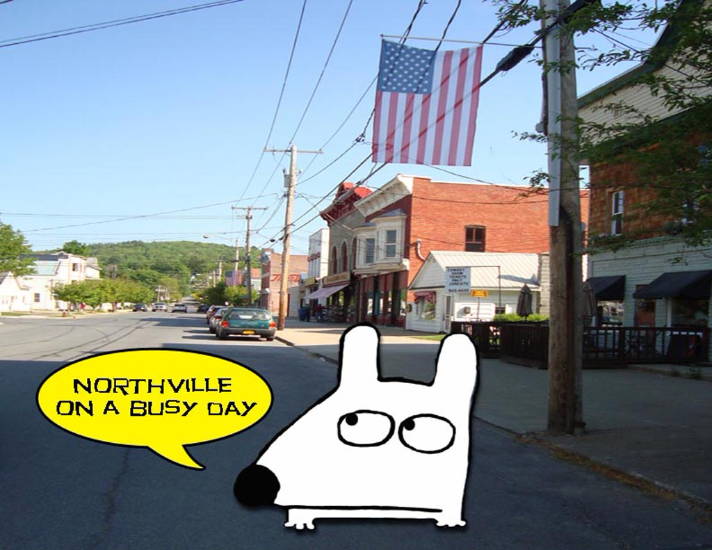 A typical summer day in Northville, NY.
In 2005 I rented the only available, boarded up store front on Main Street. Initially, I planned to utilize the space for order fulfillment.  
This storefront built in the 1800's was just too cool to waste. I decided to design and produce t-shirts for the handful of tourists who ventured into town. I turned the neglected space into a colorful, Stinky store.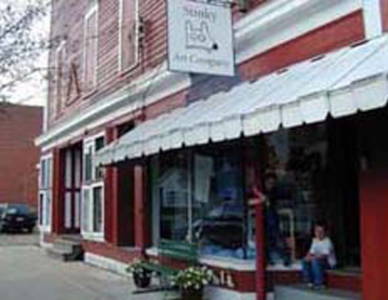 The first Stinky Dog store "The Stinky Art Company" in Northville, NY. It'a fuzzy photo!
After moving to Niskayuna, NY in 2011, Stinky moved to online sales and then in 2014 a newly improved Stinky Dog store opened in Saratoga Springs.

Stinky Dog Store in Saratoga Springs, New York
As you can see, Stinky Dog didn't start with a formal business plan. I had zero background in business. Actually, I had no formal background in art or design. Rather than following the "traditional" model of starting a business, I just utilized common sense, experimentation, and the counsel of those with business acumen in order to figure things out. I never could have gotten the brand to this point without my hugely supportive husband, family, and friends. To them, and God, I owe everything.

"For everyone to whom much is given, of him shall much be required"
Luke 12:48

I have been given much and my greatest desire is to give back. Stinky's dream is to someday make a huge contribution to support Christian relief work for the poor, sick, cancer research, animals and much much more.


Much Stinky thanks to our Stinky community. We owe a mega big thanks to you for joining us on this Stinky journey and we hope you'll continue to be a part of our Stinky story.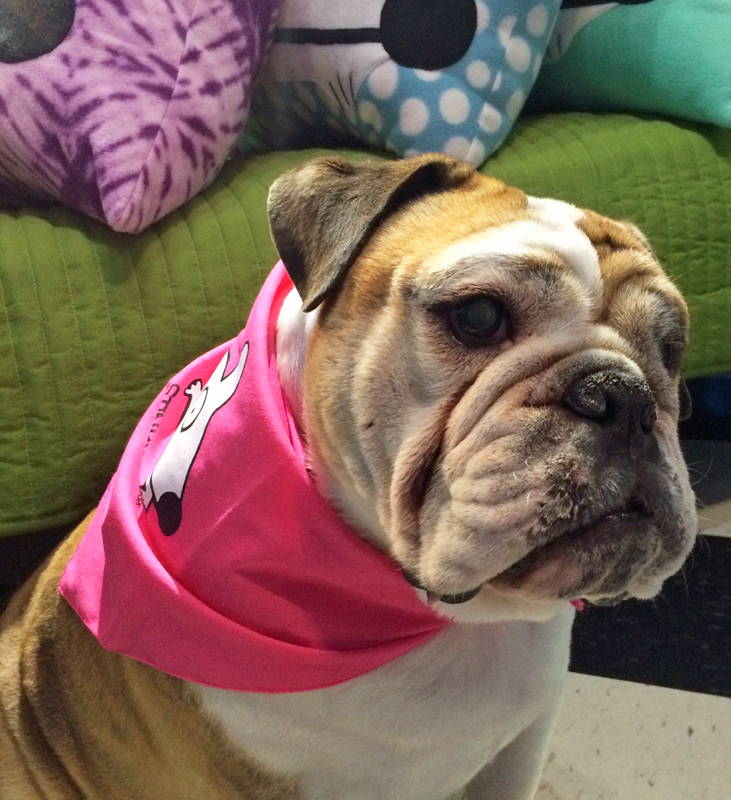 Lola, our Stinky English Bulldog!
stinky in the news...